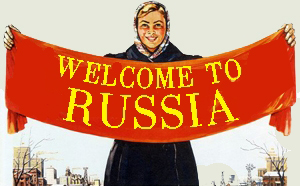 CONTENTS:

Location

Origin of the name

Climat

Administrative divisions

How to get in

Transport

Where to eat

Restrooms
Red Square is the most famous city square in Moscow, and arguably one of the most famous in the world. The square separates the Kremlin, the former royal citadel and currently the official residence of the President of Russia, from a historic merchant quarter known as Kitai-gorod. As major streets of Moscow radiate from here in all directions, being promoted to major highways outside the city, Red Square is often considered the central square of Moscow and of all Russia. More→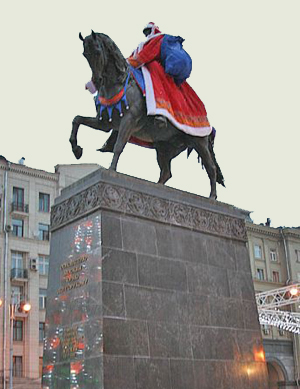 Monument to Yuriy Dolgorukiy – legendary founder of the city – for the time of every New Year celebration is dressed up as Father Frost – Russian analogue of Santa Klaus.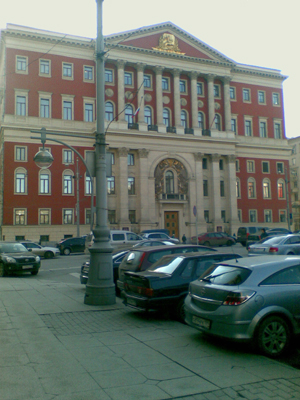 Moscow City Hall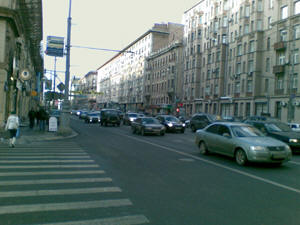 First Tverskaya-Yamskaya Street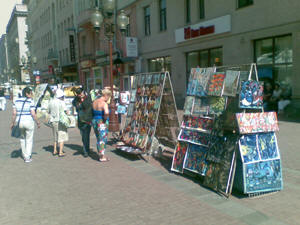 Arbat Street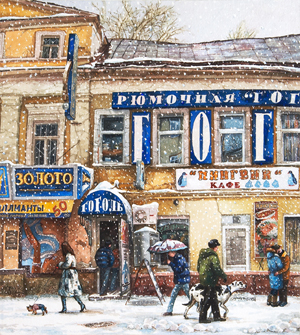 Old Arbat street. Painted by Alyona Dergilyova.
The inscription "ðþìî÷íàÿ" means a "wine-glassary", i.e. a fast-drink bar. Visiting a ryumochnaya, you can drink a wine-glass (ðþìêà [ryumka] in Russian, hence the world "ryumochnaya") of Russian Vodka or cheap but strip Port without any snack. To have a snack you should remove to a zakusochnaya (çàêóñî÷íàÿ) or "snackary".
This ryumochnaya "Ãîãîëü" is named after the Great Russian writer, novelist, humorist, and dramatist Nikolai V. Gogol, who leaved and dead in Moscow just near the Arbat Street. The Russians believe, Gogol liked to visit this ryumochnaya several times a day, scooping inspiration with wine-glasses.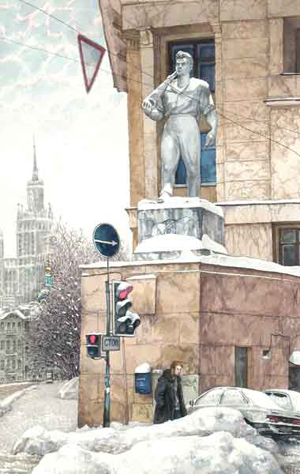 The monuments of Stalin's epocha still remain in Moscow. Painted by Alyona Dergilyova.
Feral dogs in the street. Painted by Alyona Dergilyova.
There is about a million feral dogs in Moscow. Before the XXII Olympic games which were spent in Moscow in 1980, there were many small individual houses in the city. However by the Olympiad those houses have been taken down, so that the modern multi-stored buildings to be constructed on their sites. The inhabitants of those small houses held sentry dogs, but after the "snos" (demolition) they have been compelled to let the dogs go outdoor. Since then the descendants of those dogs live in the streets.
In a show-window you can see an inscription "Ñäîáà" (Sdoba) which means "fancy bread". The Moscow Sdoba is really very tasty and not unsafe for your health.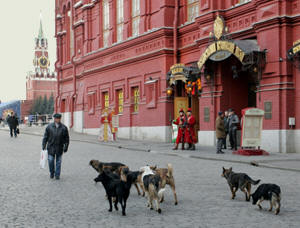 The State Historical Museum.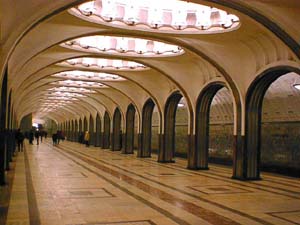 Moscow Metro is the most beautiful subway in the World.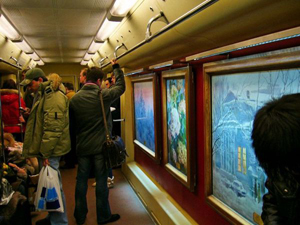 The pictures of some Russian painters are exposed now in the underground trains.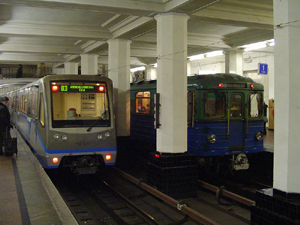 An old train adjoins to a modern one.
An old trolleybus adjoins to a modern one.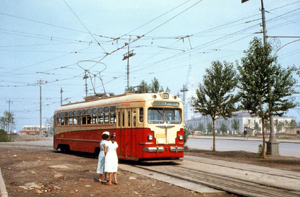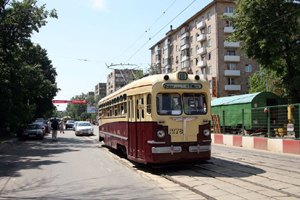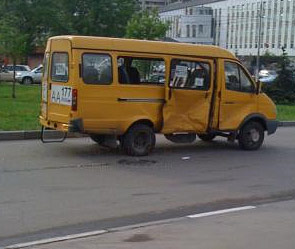 Marshrutka is a Jitney-like mode of transport that falls between private transport and conventional buses. One trip costs 25 rubles. You give money to the driver just having taking the minibus. If you need to take it off, you have to cry: "Îñòàíîâèòå çäåñü!" (Ostanovite zdes, means "Stop here!"). You should cry it in Russian, because none of the Marshrutka-drivers speak any other language and even Russian they speak very bad.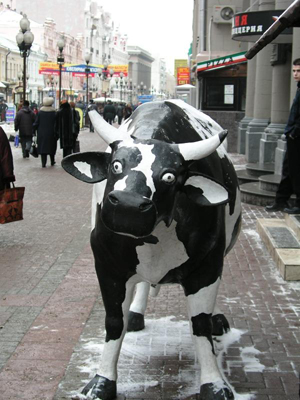 This spotty cow erected in the Arbat Street became a symbol of one of the largest networks of rather cheap restaurants.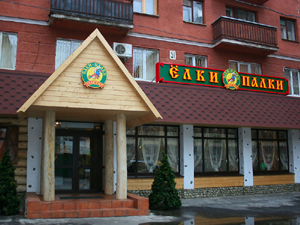 Such kind of restautants you can find anywhere.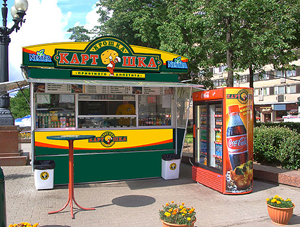 These green kiosks sell stuffed (butter, sour cream or bacon) microwave-baked potatoes, as well as toasted sandwiches and a few drinks. Hot and filling, but rather expensive for what is basically just a hunk of root vegetable.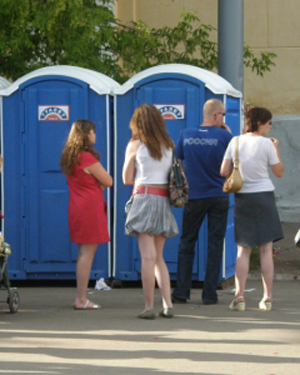 A blue outhouse is the most widespread type of the Moscow public restrooms . A visit costs 15–25 rubles. Besides, they are considered unhygienic...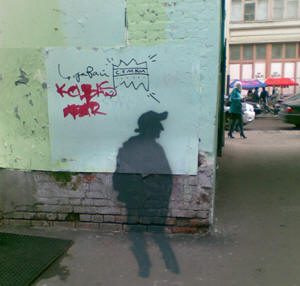 ...Therefore many Muscovites, both men and women, prefer to communicate with nature among the garages.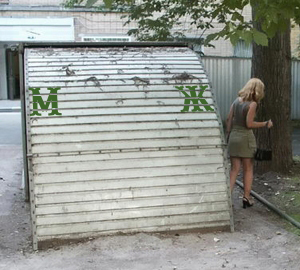 This kind of garages is named "rakushka" (means – a ñockleshell). The stationary garage in Moscow is too expensive, much more expensive than a car. Therefore many Muscovites keep their cars in such portable ñockleshells.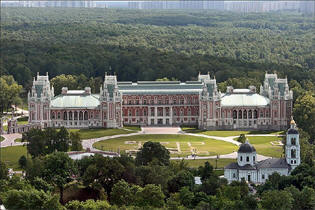 The main palace in Tsaritsino park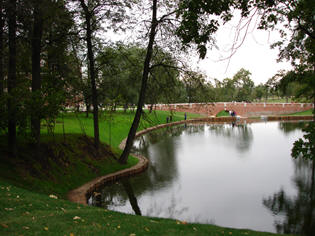 A pond in Tsaritsino park

Moscow in pictures

How to use Moscow Metro

Moscow ground public transport
MOSCOW:
everything about the Russian capital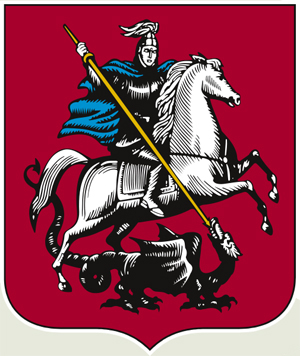 Moscow is the capital of Russia and the largest Russian city. It is also the largest metropolitan area in Europe, and ranks among the largest urban areas in the world. Moscow is a major political, economic, cultural, religious, financial, educational, and transportation centre of Russia. It is also the seventh largest city proper in the world.

Population – 10,524,400
Urban Area – 1,081 sq. km (417.4 sq mi)

Founded in 1147 BC (first mentioned in the Hypatian Codex).

Moscow is located in the European part of Russia, between the rivers Oka and Volga, and administratively in the central federal district of the Russian Federation. The city is enclosed in the Moscow oblast but administratively independent.

Moscow settles down on both coast of the Moscow River. Besides this river, there are some tens other rivers in the territory of the city, largest of those are Yausa, Neglinnaya, Presnya, and Khimka. All of those are the tributaries of the Moscow River.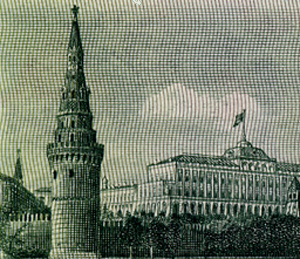 The city and the river were named after the Baltic tribes of Moskvas, those were similar to the ancient Galindians and to the modern Lithuanians. The Moskvas were assimilated by the Galindians before the Russians came, and now just the name let us remember them. Nevertheless, some historians presume the world Moscow consists of two parts - Mos and Cow - and meant in Pra-Indoeuropean language simply "a moth of a cow". Contrary to those scientists, their opponents suppose the word Moscow means means cow's moss. Actualy the territory of the present city was covered with mosses, and one of the central streets' name Mokhovaya means Moss Street.
Moscow climate is considered continental. It includes strong variations of temperature between the summer and the winter. Moscow knows cold winters and humid hot summers. The spring and the autumn are short. In summer, the temperature is near often 25 °C and it takes down the winter in the vicinity of -10 °C. The hotest recorded temperature was 36,7 °C in August, 1936 and the coldest of -42,2 °C in January, 1940. Rainfall is almost divided regularly during the year, although their quantity is more well brought up the summer than the winter. Snow recuperates the soil on average 138 days a year of mid-November at the end of March. The height of snow can attain 78 cm in the middle of the winter.
ADMINISTRATIVE DIVISION
The city of Moscow is divided into 10 administrative districts and 123 local districts
Those are: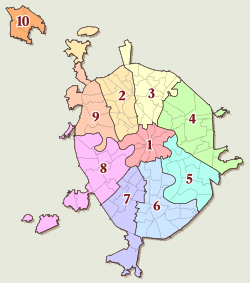 1.Central administrative District
2.North administrative District
3.Northeast administrative District
4.East administrative District
5.Southeast administrative District
6.Douth administrative District
7.Southwest administrative District
8.West administrative District
9.Northwest administrative District
10.The administrative District of Zelenograd
The Russian capital's specific town-planning development began to show as early as the 12th century, when the city was founded. The central part of Moscow grew by consolidating with suburbs in line with the medieval principles of urban development, when strong fortress walls would gradually gird along the circle streets of adjacent new settlements. The first circular defence walls set the trajectory of Moscow's rings, laying the groundwork for future town- planning of the Russian capital.
The following fortifications served as the city's circular defence boundaries at some point in history: the Kremlin walls, Zemlyanoi Gorod (earthwork town), the Kamer-Kollezhsky Rampart, the Garden Ring, and the small railway ring. The Moscow Automobile Ring Road (MKAD) has been Moscow's boundary since 1960. Also in the form of a circle are the main Moscow subway line, the Ring Line, and the so-called Third Automobile Ring, which was completed in 2005. Hence, the characteristic radial-circle planning continues to define Moscow's further development. However, contemporary Moscow has also engulfed a number of territories outside the MKAD, including the town Zelenograd.

HOW TO GET IN
By Plane
There are five airports in Moscow
Those are: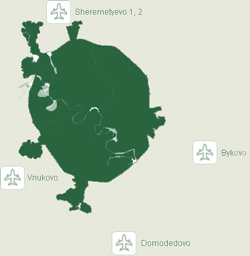 Sheremetyevo I
Sheremetyevo II
Domodedovo
Vnukovo
Bykovo
In 1980-1991 all international flights to Moscow landed at Sheremetyevo International Airport, commonly called Sheremetyevo II and soon to be renamed "Terminal B". The home base of Aeroflot, Sheremetyevo II was built for the 1980 Summer Olympics. Sheremetyevo I is actually Terminal I of the same airport; however, it is located across the (only) runway from Sheremetyevo II (to get from one to the other you have to drive around the field) and for all practical purposes is a separate airport. Sheremetyevo I handle mainly domestic flights and flights to Belarus. The new Terminal C located a minute's walk from Sheremetyevo I handle regular flights to Ukraine, Israel, Germany, Kazakhstan and a number of traditional charter flight destinations like Egypt and Turkey. A new Sheremetyevo-III ("Terminal A") is under construction due for completion sometime in 2009.
In recent years, Sheremetyevo has been eclipsed by Domodedovo, which has undergone a recent renovation and has always had a direct commuter rail link to the city. Many international carriers, including British Airways and Lufthansa, have switched to Domodedovo and since 2005 it has catered to more passengers than Sheremetyevo. Aeroflot's biggest competitors S7 (Sibir) and Transaero, along with a slew of minnows, are based at Domodedovo.
Vnukovo airport is the most closely to Moscow located airport — it also has the international status and accepts planes of leading domestic and world airlines. The least number of the international flights (separate charter transportations) among the Moscow airports is served by Bykovo airport — this is the oldest airport of the country that specializes in internal transportations.
By train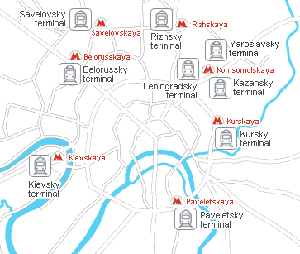 Moscow lies at the western end of the Trans-Siberian Railway from Beijing, Ulaanbaatar and Vladivostok. You can reach here from almost anywhere in Europe and Central Asia. Moscow is also the main railway hub of Russia; it is often easier for a person going cross-country to change trains in Moscow, even if it's a little out of the way, as the choice of direct trains is limited compared to the ones going to the capital. This means, unfortunately, that main train Rail Terminal s are always crowded with transients, and are generally about the most unsafe places in the city.
There are nine Rail Terminals in Moscow, each of those are located close to the city centre
Those are:
Belorussky Rail Terminal: Serves Smolensk, Minsk, Vilnius, Kaliningrad and, through the border crossing at Brest in Byelorussia, Warsaw, Berlin and most of the Central and Northern Europe. Metro: Belorusskaya. Belorussky is one of the oldest Moscow rail terminaks. It was built in 1869-70 and opened on September 19, 1870. Firstly it was named Smolensky. A year later it was renamed as Brestsky, and in 1936 it was named after the Byelorussian Soviet Socialist Republic of the Soviet Union.

Metro: Belorusskaya.

Savyolovsky Rail Terminal: It serves suburban northern direction of the city. Commuter trains only, to the suburbs and beyond. The station was built during the years 1897–1902, when a 130 km line went straight north of Moscow to connect it to the towns of Kashin, Kalyazin, Uglich, and Rybinsk. The modern name of the terminal originates from the name of a village Savyolovo (now a district of the town of Kimry) situated on the line.

Metro: Savyolovskaya.

Rizhsky Rail Terminal: Relatively small; serves only Riga and other Latvian destinations.It was opened on September 11, 1901.

The external facade of the terminal is designed by the architect Dideriñhs in Pseudo-Russian style, using of the elements borrowed from Russian architecture of the 1600-s.

Metro: Rizhskaya.

Leningradsky Rail Terminal: Trains for northwestern and northern destinations. Serves Novgorod, Pskov, Saint Petersburg, Petrozavodsk, Murmansk, Tallinn, and Helsinki. Leningradsky is the oldest Rail Terminal in Moscow. It was opened in 1851. Initially it was known as Peterburgsky (ie., Rail Terminal for Petersburg). Upon the Emperor's death five years later, the station was named Nikolayevsky. after him and retained this name until 1924, when the Bolsheviks renamed it Oktyabrsky Station to commemorate the October Revolution. In the year 1937 it was renamed again as Leningradsky after the city of Leningrad.

Metro: Komsomolskaya

Yaroslavsky Rail Terminal: Starts out going through northeastern suburbs but then turns east. It has the highest passenger throughput of all the nine Moscow rail terminals, serving eastern destinations, including the Russian Far East. It is the terminus of the Trans-Siberian Railway, the longest railway in the world. Its name originates from the ancient city of Yaroslavl, the first large city along the railway, situated 284 km along the railway from Moscow.

Metro: Komsomolskaya

Kazansky Rail Terminal: Southeastern direction. Serves Nizhny Novgorod, Kazan, Kazakhstan, Ulyanovsk and Uzbekistan.
These last three are all located on one huge square, informally known as the "Three Rail Terminal s' Square". A running joke among Moscow taxi drivers ever since the Soviet times is to be able to pick up a fare from one of them to the other, taking the unwary tourist on an elaborate ride in circles. Be prepared for enormous queues trying to enter or exit the Metro at peak times, as people are getting off or on the commuter trains. ;

Metro: Komsomolskaya

Kursky Rail Terminal: Actually two directions at one terminus. Southeastern branch serves Vladimir and Nizhny Novgorod, but most trains go south, through Tula, Orel, Kursk and eastern Ukraine to the Black Sea and beyond, including Adler/Sochi, the Crimea and the Caucasus. It was built in 1896 and has twice been rebuilt in 1998 and in 1972. There are currently plans in the pipeline to completely rebuild or refurbish the Kursky Rail Terminal.

Metro: Kurskaya/Chkalovskaya.

Paveletsky Rail Terminal: Serves Voronezh, Astrakhan, Alma-Ata, and other destinations to the South.Originally called Saratov Railway Station, it was named after a village of Pavelets, when the railroad leading south-east of Moscow reached that point in 1899. The ornate building of the station, completed in 1900 and extensively reconstructed in the 1980s, remains one of the biggest Moscow railway terminals. In 1924, it was the place where Muscovites came to meet the body of deceased Lenin. The Lenin Funeral Train is still a permanent exhibit there. The Aeroexpress train links Paveletsky station with Domodedovo Airport.

Metro: Paveletskaya.

Kievsky Rail Terminal: It is the only railway station in Moscow to have a frontage on the Moskva River. As the name suggests there are regular services to Kiev as well as Belgrade, Zagreb, Istanbul, Bucharest, Sofia, Athens, Budapest, Prague, Vienna, and Rome. The station was built between 1914 and 1918 in the Byzantine. Originally named the Bryansk Rail Terminal, it was designed by Ivan Rerberg and Vladimir Shukhov, it is considered an important landmark of architecture and engineering of the time.

Metro: Kievskaya.
By car
Twelwe main highways lead to Moscow
M1 (The Minsk highway) - from Europe, Brest, Minsk, Smolensk
M2 (The Warsaw highway) - from Crimea, Kharkov, Belgorod, Kursk, the Eagle, Tula
M3 (The Kiev highway) - from southern Europe, the western and the central Ukraine, Bryansk, Kaluga
M4 (Kashirsky highway) - from the Caucasus, from Rostov, Voronezh, the east of the Tula area
Old line of Kashirsky highway - from the Domodedovo airport
M5 And M7 - depending on a direction - from Siberia and the Far East
M5 (The Volgograd highway) also - from Kazakhstan and Central Asia, Chelyabinsk, Ufa, Samara, Saratov, Penza, Ryazan
The Ryazan highway - from Ljuberets - old line M5
M7 (Highway of Enthusiasts, then Gorki highway) - accordingly from Ekaterinburg, Izhevsk, Kazan, Nizhni Novgorod, Vladimir
M6 (Merges with M4 in Kashira) - from Astrakhan, Volgograd, Tambov, the south of the Ryazan region
M8 (The Yaroslavl highway) - from the northwest of Russia, from Vologda and Yaroslavl
M9 (The Riga highway) - from Lithuania, Latvia, Velikie Luki, Rzhev
M10 (The Leningrad highway) - from Finland, St.-Petersburg, Great Novgorod, Tver
À101 - From Roslavlja, Obninsk, Troitsk
À104 (Dmitrovsky highway) - from east areas of the Tver region, Kimr, Dubna, Dmitrova
The Shchelkovo highway - from Shchelkovo, Chernogolovki, Frjanovo
The direct way to drive from Germany, Poland, or Belarus is along the E30 road. However EU or American citizens have to get Belarussian visas to pass through Belarus, so it could be more convenient to go via Latvia (the nearest border crossing between EU and Russia on this direction) using the E22 which starts in Riga.
Easy access from Finland through St. Petersburg and Novgorod is along the E18 road. This route is also known as Russian Federal Highway M-10. Traffic on the M-10 is heavy and driving less relaxing.
Foreign cars – especially expensive ones – might attract unwelcome attention, and there is cumbersome paperwork involved.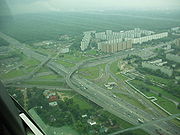 Many entry points to Moscow - that is, the overpasses carrying the major highways over the Ring Road and into the city - feature rotating roadblocks, where teams of traffic police stop all vehicles not featuring Moscow plates. You will be stopped and questioned; in most, but not all cases, you'll be allowed to proceed.
If you do use a car to arrive to Moscow, don't even think about driving around. The street system was never designed to accommodate even a fraction of the exploding population of vehicles; the traffic jams on the Sadovoye Ring often do not clear between the morning and the evening rush hours. Most roadways are in a constant state of disastrous disrepair. You will have to compete for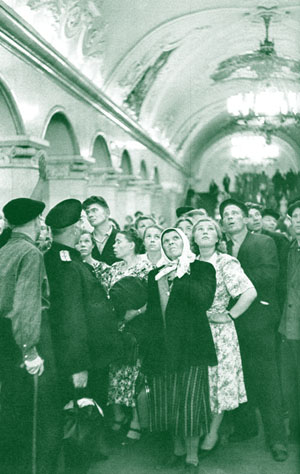 every inch of space on the road (quite literally; the proper distance between the vehicles for a Muscovite is close to zero) with seasoned drivers in dented "Lada"s who know the tangle of the streets inside out and will not think twice before cutting you off at the first opportunity. The drivers of the ubiquitous yellow "marshrutka" route taxis can seem to be nearly suicidal, and account for a significant percentage of all accidents, while buses stop, go and barge in and out of traffic at will, blissfully unaware of the surroundings. One bright spot is the relative dearth of the large 18-wheeler trucks on Moscow roads; they do ply the Ring Road, however. From time to time all traffic on major thoroughfares may be blocked by police to allow government officials to blow through unimpeded, sirens blaring. If you manage to get to your destination, you'll find that there is nowhere to park, or worse, that a space which looked OK to you is either illegal or "belongs" to someone (or both); this would mean finding upon return a smashed-in windshield or slashed tires, to teach you a lesson, or your car being towed ("evacuated"). In fact, you might get towed for any reason or without one. Any serious altercation on the Moscow roads means dealing with GIBDD, the road police, the most notoriously corrupt institution in the city. Park as soon as you can at a safe place (your hotel, for example) and use public transit.
People, arriving to Moscow from the remote places, are always amazed with the capital.

Eurolines. Operate coach services into Moscow. Typical fares would be £10 (one-way) to Riga, Latvia, or £60 to London in the United Kingdom.
Intercity busses to Russian and some former Soviet Union cities depart from the intercity bus station (àâòîâîêçàë) at Shelkovskaya Metro station (the last station of the dark blue line, in northeast Moscow). This is the only place in Moscow from which public transportation is available directly to Suzdal. Also, some intercity buses depart from Komsomolskaya, Tushinskaya, Yugo-Zapadnaya, Vykhino, and Domodedovskaya Metro stations.
By shipp
Moscow used to be served by regular passenger ships. A system of navigable channels and locks connects the Moskva River with Volga River, which in turn, through the Volga-Baltic channel, provides a way to the Baltic Sea (using the Onega, Ladoga and Neva rivers) and further from Ladoga Lake through the White Sea channel to the White Sea; to the south through the Volga-Don channel to the Don river and the Azov and Black Sea; while Volga itself flows into the Caspian Sea. In the Soviet times this allowed the official propaganda to refer to Moscow as "a port on the five seas". There is no scheduled passenger traffic anymore on any of these routes.
There are 2 river terminals in Moscow, on each end of the series of major bridges over the river; these are not capable of being drawn up, and not all of them are of sufficient height to allow large ships to pass. The North Station, in Khimki neighborhood, provides berths for cruise ships to Saint Petersburg, as well as Astrakhan, Rostov-on-Don and other cities along the Volga. The South Station (closest Metro: Kolomenskaya) ceased to be used commercially, since the Oka River, of which the Moskva is a tributary, has silted to the point of being impassable.
Metro (Subway, Underground)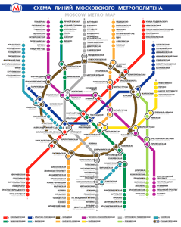 Main artice: How to use Moscow Metro
Local transport includes the Moscow Metro, a metro system famous for its art, murals, mosaics, and ornate chandeliers. When it first opened in 1935, the system had just one line. Today, the Moscow Metro contains twelve lines, mostly underground with a total of 177 stations. The Metro is one of the deepest subway systems in the world; for instance the Park Pobedy station, completed in 2003, at 84 metres (280 ft) underground, has the longest escalators in Europe. The Moscow Metro is one of world's busiest metro systems, serving more than nine million passengers daily. Facing serious transportation problems, Moscow has wide plans of expansion of Moscow Metro.
Tickets are sold only at manned booths within the stations ("kassa"). In several stations there are tickets vending machines.
The Metro is open from 5:30AM - 1AM. Stations close at 1AM so your journey must be completed by then (more precisely, at 1AM the last train starts from the end stations, the entrances and transfers betweenn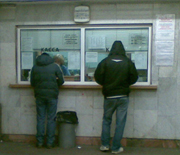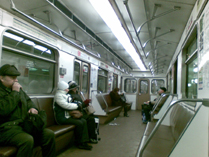 lines are locked and the escalators are stopped - if you caught the train, you'll be able to exit at any stop on the way, but it might be a long slog up the steps). Before 7AM and after 9PM, the metro is rarely busy. Between these times on work days it can be a real squeeze, especially within the ring. Some escalators are a two minute ride as the stations in the city center are very deep. On the escalators stand on the right.
It's important to know that colors in the underground's signs don't necessarily correspond to the ones on the maps, so the green line is not necessarily indicated by a green sign (that could be the sign for the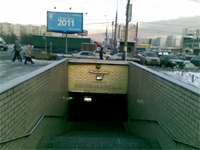 gray line). It's less confusing to refer to the numbers, e.g. line 3 is line 3 whatever color is on the sign. There are no English signs inside so have your itinerary ready beforehand or learn to read Cyrillic, which is possible. Anyway, you can use a Russian-English plan while you moving inside a Metro train. Don't let yourself be intimidated by the huge masses of jostling, rushing, cross people. The Russians also take their time to study the tiny signposts to see where to change trains or which exit to take. Don't use the metro if you are claustrophobic as the air is thick especially at rush hour.
Moscow metro fares
Ticket type

Period of validity

Price
(rubles)

Tickets with limited number of rides:

1 ride

5 days, incl. day of purchase

28

2 rides

56

1 passenger-luggage

28

1 ride and 1 passenger-luggage

56

5 rides

45 days, incl. day of purchase

135

10 rides

265

20 rides

520

60 rides

1245

Metro travel card (70 rides)

calendar month

1230

Monthly travelcard for 4 kinds of transport, number of rides in metro being 70

calendar month

2380

Smart cards with unlimited number of rides:

Smart card for students of Moscow universities

calendar month

350

A 30-day smart card

30 days, incl. day of purchase

1710

A 90-day smart card

90 days, incl. day of purchase

3485

A 365-day smart card

365 days, incl. day of purchase

11430
Inscriptions on information boards and panels used in Metro

ÍÅÒ ÂÕÎÄÀ

NO ENTRANCE

ÏÅÐEÕÎÄ ÍÀ ÊÎËÜÖÅÂÓÞ ËÈÍÈÞ

TRANSFER TO CIRCULAR LINE

ÂÛÕÎÄ Â ÃÎÐÎÄ

EXIT TO THE STREET

ÏÅÐÅÕÎÄ ÏÐÅÊÐÀÙÀÅÒÑß Â 1 ×ÀÑ ÍÎ×È

TRANSFER IS CLOSED AT 1 A.M..

Ê ÏÎÅÇÄÀÌ ÄÎ

ÑÒÀÍÖÈÉ:

BOARDING PLATFORMS TO STATIONS:

ÏÎÑÀÄÊÈ ÍÅÒ

NO BOARDING
There is also a short monorail line, operated by the Moscow Metro company. The line connects station near Timiryazevskaya Metro station and station near tram depot at Sergeya Eyzenshteyna str., close to AREC. The line opened in 2004.
Ground transportt
Main artice: Moscow ground public transport
Bus and Trolleybus
As Metro stations outside the city centre are far apart in comparison to other cities, up to 4 kilometres (2.5 mi), an extensive bus network radiates from each station to the surrounding residential zones. Also Moscow has a bus terminal for long-range and intercity passenger buses (Central Bus Terminal) with daily turnover of about 25 thousand passengers serving about 40% of long-range bus routes in Moscow.
Every large street in the city is served by at least one bus route. Many of these routes are doubled by a trolleybus routes. Also every large street of Moscow has trolley wires over it..
One trip costs 25 rubles, if you pay to a bus (or trolleybus) driver. However you can buy a ticket at a bus-stop. It would be much chipper (Read more).
Tram
Moscow has an extensive tram system which first opened in 1899. Its daily usage by Muscovites is low (approx. 5%) although it still remains vital in some districts for those who need to get to the nearby Metro station (Read more).
Share (route) taxi (Marshrutka)
A Jitney-like mode of transport that falls between private transport and conventional buses. One tripr costs 25 rubles. You give money to the driver just having taking the minibus. If you need to take it off, you have to cry: "Îñòàíîâèòå çäåñü!" (Ostanovite zdes, means "Stop here!"). You should cry it in Russian, because none of the Marshrutka-drivers speak any other language and even Russian they speak very bad (Read moree).
WHERE TO EAT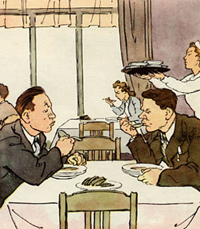 The total majority of the tourists will find that eating out in Moscow is quite expensive. It does not have to be that way, it's just that the options most visible for the foreigner generally are.
There are a number of American franchise restaurants, such as McDonald's and TGI Friday's; it's a familiar, if boring eat at a reasonable price. A Big Mac in Moscow McDonald's costs 70 Rubles, that is less than in US, UK and Europe (more detailedd).
Great American-style breakfasts can be had at either of the American Bar & Grill locations; also serving thick juicy cheeseburgers.
A huge and quickly growing range of restaurants, with a matching range of prices, has developed in Moscow. The average cost per person for a middle to top class restaurant will be $30 to $200 (more if one goes for vintage wines). A quick 'canteen' style meal in a 'Stolovaya' can cost about $3 and is generally underground, near famous monuments and subway stations. These large food courts sometimes also contain a small mall. They will usually include toilets but be prepared to pay around $1 to use them. Lately a lot of new "middle-class" restaurants have opened, filled with families on weekends. The omnipresent McDonald's have outlets near many metro stations.
Non-chain restaurants and cafes promising "European and Caucasus cuisine" are equally bad in either one most of the time; seek a specialist single-region venue instead (Georgian, Russian, Italian, French etc). ;
Lifetime of an average restaurant or cafe in Moscow is 2 years - in 2 years the quality decreases, or it changes ownership, name and/or format.
Many small restaurants within the Sadovoye ring are now offering prix-fixe "business lunches" at around RUB200-250, for the teeming hordes of white-collars populating the neighborhood during the day. These deals are valid in the middle of the day (12-3 PM) and include a cup of soup or an appetizer, the main dish of the day (a smaller portion than if you order a la carte; sometimes there's even a limited choice), bread (no Russian eats anything without a slice) and a beverage (soda or coffee/tea; beer costs extra); it is a reasonably priced, freshly cooked quick meal in the middle of your wanderings which will tide you through to the evening.
Ethnic foodd
Georgian – Besides Russian cuisine, one variety of ethnic food that is strongly recommended while in Moscow is Georgian. This cuisine is generally spicier than Russian food, and there are a number of reasonably priced Georgian restaurants in Moscow.
Japanese Thai cuisine can be found only in few restaurants, and its authenticity is well arguable. ;
Vietnamese and Chinese cuisines are not popular with Russians, but can be found if you search for it.
You can find "authentic" Chinese and Vietnamese food in Vietnamese/Chinese Markets, such as Cherkizovskaya or Izmalovo Markets. You will need to do some exploring deep into the markets or maybe ask a few vendors to locate the restaurants. The vendors themselves eat at those places.
··Viet Cafe A nice place for Vietnamese food is the "Izumrudnaya Reka" ("Emerald River") in the Savyolovskiy market, close to Savyolovskaya metro station.
Outdoor Stand Up
Free-standing street food is well represented with hot dogs/sausages, meat pastries and doner kebab (shawarma) kiosks (dwindling in numbers, though, as part of the mayor's quest for limiting immigrant businesses under the guise of sanitary enforcement). The latter are tasty, if not entirely authentic, but can be risky; pack Pepto-Bismol. An undertaking to counter with "native" food under the trade mark of "Russian Bistro" (blini, piroshki and so on) seems to have flopped, as very few of them remain (you can still get a taste of the menu on Tverskaya st. near Pushkinskaya Metro station; in summer be sure to ask for a cold mug of kvass, a malted rye soft drink, if they have it on tap).
There are also several chains of outdoor stand-up food vendors, usually located in clusters around Metro stations. A few to look for are:
Kroshka-Kartoshka – These green kiosks sell stuffed (butter, sour cream or bacon) microwave-baked potatoes, as well as toasted sandwiches and a few drinks. Hot and filling, but rather expensive for what is basically just a hunk of root vegetable.
Riksha Ivan ("Ivan the Rickshaw") – Quick Chinese-like cuisine; fried rice with meat to go.
Teremok – These brown-colored kiosks sell large blinchiki, or Russian crepes that come with a variety of fillings.
Muscovites are also fond of their ice cream, consumed in any weather, even (proudly) in the dead of winter, cheap and usually of superior quality; kiosks can be found all over the center and near all Metro stations.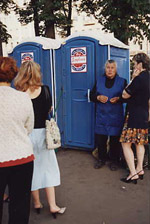 Nevertheless it is cold to pee outdoor in the winter, especially for women. Unlike women in Africa or Asia, the majority of Russian women are not skillful in peeing while standing, and p-mates are not sold in the Russian drugstores. Thus, having to pee out door, they have to bare extensive sites of their bodies. Therefore, they have to urinate in a pod'ezd (ïîäúåçä) – a doorway of a multistoried building. However recently the pod'ezds have been equipped with coded locks, because the pod'ezds always were the very popular places to have a pee in. Thus, one to have to dispose one's bodily wastes in the winter, dials up a number of any apartment and says to the on-door speakerphone: "I am a post-officer and need to distribute the newspapers among the post-boxes."
You also can visit to the nearest McDonald's. However, the Moscow McDonalds' are too large (one of them is the largest McDonald's in the world), but the restrooms in them are too small for such number of visitors. Therefore you would wait in a long queue. The same queues also occur in the department stores' restrooms especially in the women's rooms. The restrooms in the hypermarkets are available for the personnel only.
Fortunately there are 263 stationary restrooms in Moscow. Unlike outhouses, stationary restrooms named Ñîðòèð (from the French verb "sortir", which means "to go out") are separated by sex and many of them are free. Men's public restroom are designated with the letter M, which means ìóæñêîé (men's), while women's public restrooms are designated with the Russian letter Æ which means æåíñêèé (women's). Many public restrooms are equipped with squat toilets. However even if they are equipped with standard western pedestal toilets, it should be better for women to urinate in squat or hovering position. Some restrooms are not equipped with toilets and urinals. Instead of them there are holes in a floor and a trench for urine drains.

See the location of the Moscow free restrooms on the map